I WANT TO ATTEND
Name
Remaining
Available Until
Price
Qty
General Admission Ticket [+]
$25.00

Admission for one guest. Price increases to $30 at the door

VIP Ticket, includes VIP Reception [+]
$100.00

Admission for one to event, plus VIP Reception at 1p. Recognition as an event sponsor at the event.

Individual Sponsorship, includes 2 VIP Tickets & Reserved Prominent Table of 4 [+]
1
$500.00

Admission for 2 to event, plus VIP Reception at 1p. Reserved prominent table for 4 at event. Please note: the 2 extra seats require a purchased ticket. Recognition as an event sponsor on promotions & at the event.

Corporate Sponsorship [+]
$1,000.00

Admission for ten guests to main event, plus admission for 2 to VIP Reception at 1p. Recognition as an event sponsor on event promotions & at the event.

Corporate Presenting Sponsorship [+]
$5,000.00

Admission for ten guests to main event, plus admission for 6 to VIP Reception at 1p. Presenting sponsorship recognition on event promotions & at the event.

General Admission At Door [+]
$30.00

Tickets sold at the door

1 Raffle Ticket
$5.00

5 Raffle Tickets
$20.00
I CANNOT ATTEND BUT I WANT TO DONATE
EVENT DETAILS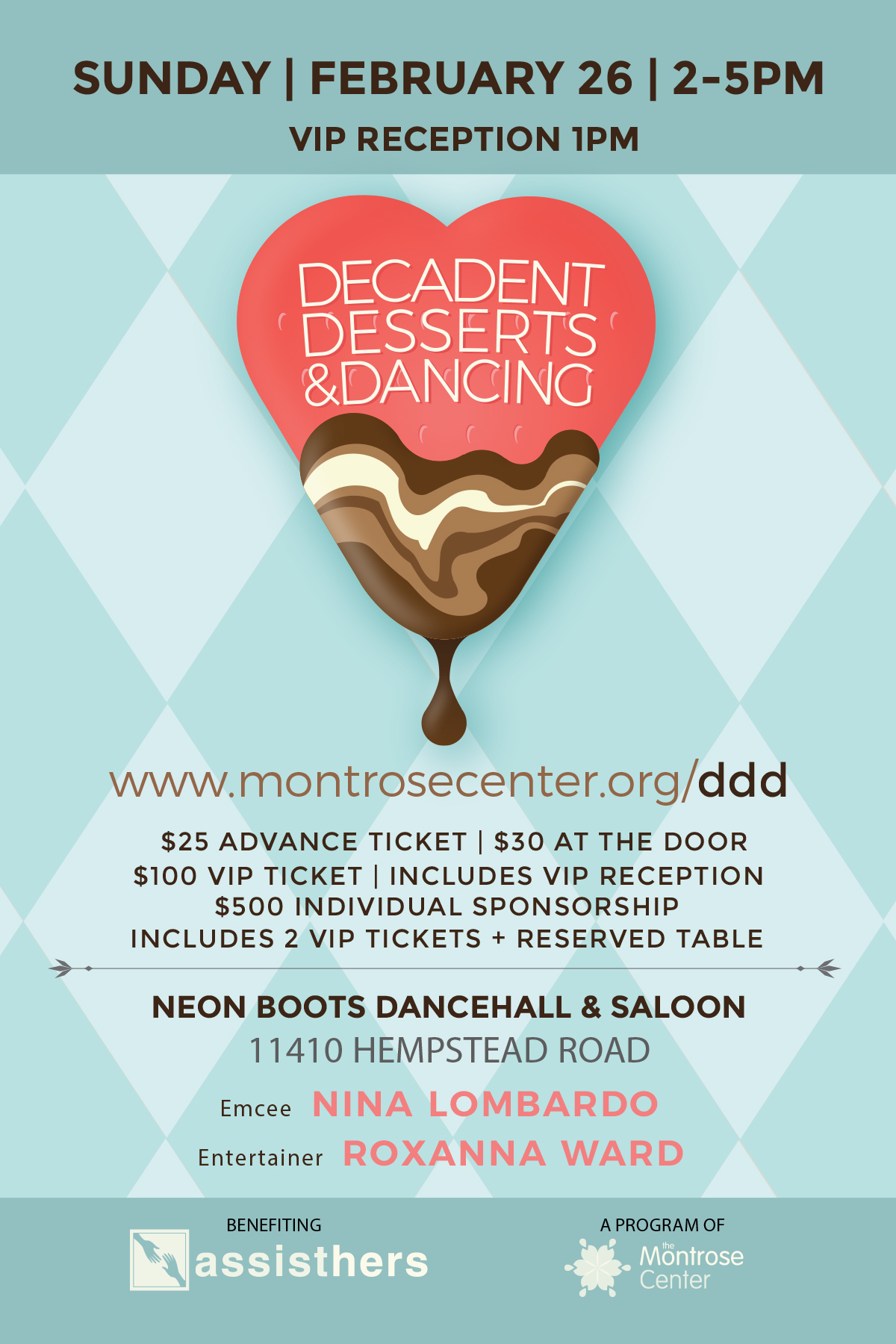 Join us for desserts,
BBQ, entertainment, raffles, & lots of boot-scooting!
Sunday, February 26, 2-5p
VIP Reception 1p
Neon Boots Dancehall & Saloon
11410 Hempstead Rd
Make your reservations today!
$25 now | $30 at the door
$100 VIP Ticket includes VIP Reception

$500 Individual Sponsorship includes 2 VIP Tickets, plus
Reserved Table of 4 in Your Name




Entertainment

Comedian Roxanna Ward


Emcee Nina Lombardo
Vote with Your Dollars!!!
Choice Chef Competition, featuring
Participants will be present to serve their best treats to our guests.
The winner will be whoever collects the most donations for AssistHers.
Vote for your favorite with your dollars!!!
Raffle! Collection of Items
All about Travel
All about Booze
All about Pets
All about Gardening
Benefiting
AssistHers
Helping lesbians with disabilities or chronic illness live as normally as possible

A Program Of
The Montrose Center
GUEST LIST
| | |
| --- | --- |
| | MaryBeth Alsdorf |
| | Mary Alsdorf |
| | Mary Alsdorf |
| | Bobbie Andrews |
| | CASH Anonymous |
| | Anonymous Anonymous |
| | Anonymous Anonymous |
| | Anonymous Anonymous |
| | Anonymous Anonymous |
| | CASH Raffle Anonymous |
| | Anonymous Anonymous |
| | Anonymous Anonymous |
| | Anonymous Anonymous |
| | CASH Raffle Anonymous |
| | Anonymous Anonymous |
| | Anonymous Anonymous |
| | Anonymous Anonymous |
| | Anonymous Anonymous |
| | Anonymous Anonymous |
| | Anonymous Anonymous |
| | Anonymous Anonymous |
| | Cathy Armstrong |
| | Nancy Arnold |
| | Claire L. Baker |
| | Valerie Barr |
| | Ginger Baumun |
| | Dennis C. Beedon |
| | Regina Bennett |
| | Melissa Bergman |
| | Melissa Bergman |
| | Melody Blake |
| | Rene Braud |
| | Rene Braud |
| | Rene Braud |
| | Robert Briddick |
| | Irene Briones |
| | Delecia Bush |
| | Delecia Bush |
| | SYLVIA CABRERA |
| | Sylvia Cabrera |
| | Sylvia Cabrera |
| | Sylvia Cabrera |
| | Adela Castanon |
| | Natalie Collins |
| | Natalie Collins |
| | Guests of Da Capo's Pastry Cafe |
| | Jim Daily |
| | Joel Dietz |
| | Lizel Diloy |
| | Lizel Diloy |
| | Roger Donley |
| | Regina Dotson |
| | Michael Easley |
| | Gail Eldridge |
| | Michael Evans |
| | Arden Eversmeyer |
| | Arden Eversmeyer |
| | Lisa Fitzgerald |
| | Brenda Flewellen |
| | Elvia Flores |
| | Marion Friedman |
| | Marion Friedman |
| | Judy Gaines |
| | Krystal Gilliam |
| | Krystal Gilliam |
| | Gladys Gladys Last Name Unknown |
| | Bob Glazier |
| | Sandi Glorfield |
| | KK Goodsell |
| | KK Goodsell |
| | Rose Gutierrez |
| | Connie Habern |
| | Connie Habern |
| | Tammy Hager |
| | Vanessa Hager |
| | Dana Harrell |
| | Andrew Hevey |
| | Andrew Hevey |
| | Janice Ives |
| | Donna Junker |
| | David King |
| | Steven Kirkland |
| | Steven Kirkland |
| | Steven Kirkland |
| | Steven Kirkland |
| | Annemarie Kneebone |
| | Julie Lara |
| | David Lassetter |
| | David Lassetter |
| | Lisa Lockett |
| | Jodi Losh |
| | Jodi Losh |
| | Jodi Losh |
| | BETTY MORALES |
| | Micakayla Maddox |
| | Lisa Madry |
| | Lavita Marks |
| | Michael Martin |
| | Michael Martin |
| | Isabel Martinez |
| | Isabel Martinez |
| | Timmy Martinez |
| | Timmy Martinez |
| | Janice Martinez |
| | Doug Mason |
| | Eric Mata |
| | Mary McDowell |
| | Osiris Mckinney |
| | Roberta Metz |
| | Roberta Metz |
| | Roberta Metz |
| | Georgette Monaghan |
| | Mary Montgomery |
| | Guests of Montrose Star |
| | Linda Morales |
| | Linda Morales |
| | Betty Morales |
| | Deb Murphy |
| | Gretchen Myers |
| | Kimberlie Nelson |
| | Kimberlie Nelson |
| | Jane O'Brien |
| | Abraham Olivas |
| | Linda Owen |
| | Kyle Pierce |
| | Ross Pierkowski |
| | Sue Ramirez |
| | Lewis Rasco |
| | Mary Reilly |
| | Al Risher |
| | Al Risher |
| | Al Risher |
| | Robin Robinett |
| | Robin Robinett |
| | Robin Robinett |
| | Susan Rokes |
| | Ellen Rottersmann |
| | Ellen Rottersmann |
| | Deb Sanders |
| | Michael Savino |
| | Lynn Schwartzenburg |
| | Lynn Schwartzenburg |
| | Scottie Scott |
| | Unknown Scottie Scott sold ticket |
| | Cy Sharp |
| | Kathy Simmons |
| | Janis Smith |
| | Donna Smith |
| | Beatrice Stewart |
| | Tara Swain |
| | Catherine Swilley |
| | Bryan Taft |
| | Terry Talley |
| | Terry Talley |
| | Janet Talmadge |
| | Renee Tappe |
| | Margaret Thibodeaux |
| | Brenda Thompson |
| | Brenda Thompson |
| | Patricia A. Tiller |
| | Dwane Todd |
| | Mayra Torres |
| | Danita Torres |
| | Charlette Travis |
| | Angelita Vela |
| | Staci Velazquez |
| | Staci Velazquez |
| | Staci Velazquez |
| | Staci Velazquez |
| | Andrea Washington |
| | Andrea Washington |
| | Kim Watson |
| | Fran Watson |
| | Debbie Wernet |
| | Rena West |
| | Dusty West |
| | Rena West |
| | Mike Wheat |
| | Carole Wiseman |
| | David Wong |
| | David Wong |
| | Sallie Woodell |
| | Cecelia Woolsey |
| | Edna Wright |
| | Guests of Zeapod Cakery |
| | Laura guthrie |
| | melodye martinelli |
| | melodye martinelli |
| | melodye martinelli |
| | melodye martinelli |
| | viviana morales |
| | viviana morales |
| | viviana morales |
| | viviana morales |